MindFusion.Charting for WinForms
The right charting solution for your WinForms application.
Download Charting for WinForms, V3.6
Create the Perfect Chart in Minutes
Charts are indispensable part of today's business applications and MindFusion.Charting for WinForms provides developers with an easy and reliable way to create them.
Line Charts
All types of line charts support unlimited number of data series and complete customization of each series - colors, labels, data etc. Both positive and negative values are supported for all axes. You can add aggregate functions (sum, min, max, etc.), sort the series for maximum visibility or change the orientation from vertical to horizontal. Everything is done easy and intuitively, usually just by editing a property in the property grid.
Pie Charts
Pie and doughnut charts can show labels inside and outside their pieces and you can choose the starting angle for the chart, its size and thickness, if the chart is 3D. It is incredibly easy to work with the pie control - numerous custom Visual Studio editors let you edit all its settings in design time and get an immediate preview of the result.
Bar Charts
Bar charts can be rectangles or cylinders, flat or 3D, in a row, column or stacked. There is no limit for the number of series you will add. Labels can be drawn inside and at the top of each bar, the label position and orientation are customizable. Both negative and positive values are supported and bars can be drawn either vertical (column chart) or horizontal.
Radar Charts
Radar and polar charts support line, area, scatter and arc graphics as well combinations among them. A variety of background styles is available - sections, segments or a 3D background with custom-set brush. The axes can be circles or polygons.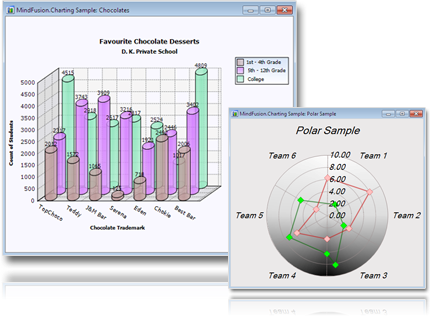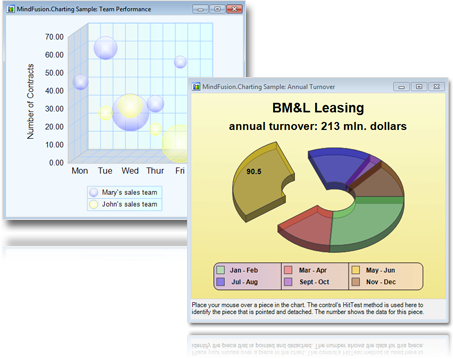 Legend
The legend in the chart can be drawn at an arbitrary position around the plot area. The legend can have as many rows and columns as you choose. You can draw it with a frame and customize the space among legend items. The legend also supports a grid.
Grid
Charting for WinForms supports five grid styles. You can choose the location of the grid lines, the color of the grid stripes and even assign them labels. Of course, the traditional grid styles - horizontal, vertical and cross are also available together with a chess-like style where you set the size of the squares.
Simple and Easy
Charting for WinForms offers rich functionality but it does not come at the expense of simplicity. The API of the control is kept elegant and simple, all members are diligently documented. There's plenty of samples and code to study together with step-by-step guides and tutorials. If you have questions regarding the control, please ask us and you'll get a competent answer within hours. We put as much effort in providing excellent customer support as we put in developing first-class software.