MindFusion.Scheduling for WinForms, V5.6
Schedules and Calendars for Every WinForms Application. Fast and Easy.
Download trial
Ready for the Job
If you need to add calendars and schedules to your WinForms application, MindFusion.Scheduling for WinForms is more than ready for the task. It gives you a perfect set of features to build any schedule and calendar and much more.
The Schedule
Each schedule can have appointments, tasks, locations, contacts and resources. You can define your own Item or Appointment classes in a few easy steps. The schedule supports undo and redo and can be serialized in a variety of formats.
Views
MindFusion.Scheduling for WinForms offers a variety of views and you are sure to find the one that matches the needs of your application. You can show any time period - from hours to years in the appropriate view format and time interval. The views are easy to change and most of them support grouping by resources or contacts.
Appearance
The component supports completely customizable style-based appearance and a rich choice of pens, brushes and text formatting options. There is a set of predefined themes and you can create your own themes with the ThemeEditor tool. You can also use tool-tips and apply item effects - Aero, Glass, Glow and more.
Serialization and Output
For any schedule you can create a report that displays various item properties such as header text, start time and more. Reports can be printed, print preview is also an option, and exported to PDF or Microsoft Excel. The Schedule can be exported to XML and Open Office XML (XLSX) file.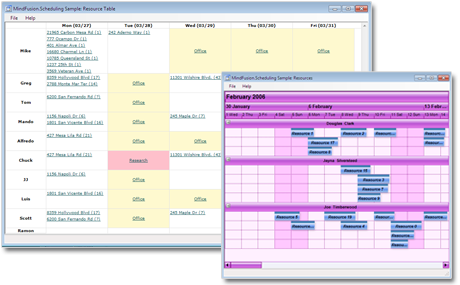 User Interaction
The Scheduling component allows in-place editing of items as well interactive item creation and modification. You can move between next/previous day, month or year in all views. You can choose one or more items. Automatic scrolling while dragging items with the mouse and tool-tips are also supported.
Localization
Displaying schedules to users in their own language and format is an important feature for each application that presents calendars and uses DateTime values. MindFusion.Scheduling for WinForms offers you properties for localizing not only the schedule but also the built-in forms - Appointment, Task and Recurrence form. Localization is a very easy and straight-forwarded process - you only need to set a single property on the calendar control and populate a few properties for the auxiliary forms and you are ready!
"Planner.NET is great! Completely stable and its feature set is rich. The intuitive design and simple API are far better than any of the competition. I am sure our users shall appreciate the beautiful user interface too. And above all, the MindFusion technical support is fantastic, this is an important reason itself for me to use this control."
Mr. Mark Roberts,
Cinches