MindFusion.Reporting for WinForms, V2.3
The perfect reporting tool for every WinForms business application.
Download trial
Reliable and Simple to Use
Adding a beautiful report is no longer a matter of days but hours. MindFusion.Reporting for WinForms adds the complete set of reporting features to you application and you can build the most complicated report fast and easy.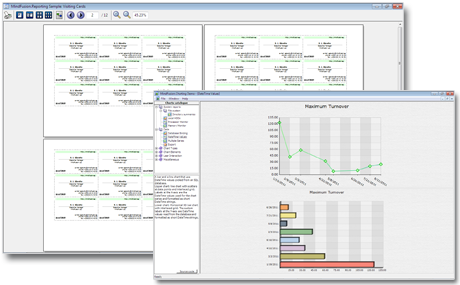 Customizable Appearance
It is really easy to customize how your report look with the rich set of style settings provided by the component. You can choose the text style and size, its color, format and alignment. Each report can have a header and a footer, you decide about the orientation of the pages. You can add to your reports one of the built-in charts or any other WinForms control.
Report Data
You can retrieve your data from any .NET data source and even use several data sources in a single report. The component is compatible with ADO.NET and supports both bound and unbound modes.
Output and Export
You can preview your reports and then render them at the screen through Windows Forms. Printing and print preview are also supported. If you want to export the report you can choose among several file formats - XML, PDF, HTML and MHTML files as well Open Office XML (XLSX).
A Variety of Charts
The Reporting component features a built-in charting tool for any type of bar, line, pie and radar charts both 2D and 3D. The charts support legend, grid and a variety of pens, brushes and fonts. Each chart can have a multiline title and subtitle.
Helpful Tools
The Reporting component offers a variety of tools that make designing and customizing the report an easy task. The Reports Designer helps you edit the report's appearance. The Report Viewer and Editor let you display and edit the reports. The charts have their own editors for adjusting the chart's settings.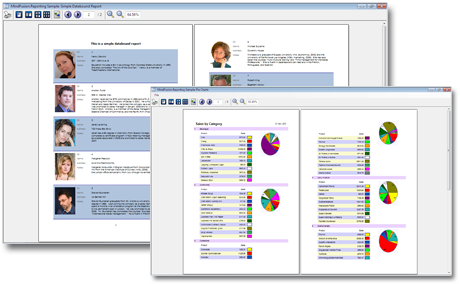 Enhance Your Report with Barcodes
Bring the world of commerce to your WinForms application with the new Barcode report item. Use simple drag&drop to add a bar code with a format of your choice - Quick Response (QR), Universal Product Code (UPC) or International Article Number (EAN) code in all their variations (UPCA, UPCE, EAN13, EAN8) are fully supported. Finally, choose the appropriate color, background and location of your Barcode item to ensure your report not only performs but looks its best.
Online Documentation: Barcode Report Item