MindFusion.Diagramming for ASP.NET WebForms, V6.1
Amazing diagramming features for your online software packed in a single asp.net flowchart control
Now Is the Time To Create Great Web Diagrams
You need to design an eye-catching workflow chart, graph or project management schematic? Then all you need to complete the task with excellence and speed is MindFusion.Diagramming for ASP.NET library.
More Diagram Elements Than You'll Ever Need
Treat yourself and your web software to the huge selection of predefined diagram nodes offered by MindFusion ASP.NET diagram library. Build tables with as many rows and columns as your application demands - and apply cell spanning, expand or collapse cells. Organize your nodes in containers and utilize the powerful svg nodes to create even more graphically compelling diagram items. If you want something special - the shape designer makes generating your own diagram nodes fast and easy. Let's not forger about the connectors - you can build them from multiple segments, which can be straight lines or curves. Each link segment can have its own label.
Highly Responsive User Interaction
Let your users experience the comfort of interacting with the diagram and witnessing the result on the spot. No waiting, no delays. Whether you draw a link with the mouse, resize a node, type in text, move items etc. - the result is visible the moment you perform the action. Large diagrams would nicely benefit from the seamless scroll and zoom capabilities of the control. The overview control comes handy when you want to bring quickly another part of the flowchart to the visible area of your browser. Even if you perform more complex operations like dragging multiple nodes or changing the destination of a link - MindFusion.Diagramming for ASP.NET performs the action with amazing speed and ease as if you are drawing on a paper sheet with your own hand.
Unmatched Layout Capabilities
Whether you design a workflow, generate organizational chart or network diagram, build flowchart from source code - MindFusion offers the perfect automatic layout for you. You can choose among more than 20 graph layout algorithms, which are applied with a single method call. Add to them automatic link routing and you'll see why this library empowers you to build diagrams that excel.
Online Samples: Decision Layout, Orthogonal Layout, Layered Layout, Fractal Layout, Grid Layout, Circular Layout, Tree Layout
So Many Ways to Present Your Diagram
MindFusion ASP.NET Diagram control not only allows you to build great flowcharts in no time - it also gives you multiple options how to present them both online and offline. Many would opt for the HTML 5 Canvas mode and present the flowchart in the browser, where full interaction is completely preserved. Another popular option is to use Microsoft Ajax for ASP.NET and to render the diagram in HTML Image Map Mode. You can use this tool to create bitmap images and you can easily export any workflow diagram to an astonishing variety of formats including PDF, SVG, VDX.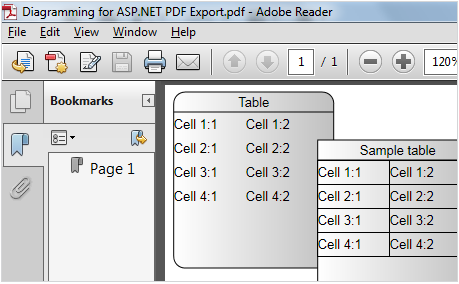 ASP.NET Treemap: Your Data at a Glance
A treemap is a space-efficient way to render large amount of nodes that are nested within each other. The node location, size and coloring provide important information about its weight and place in the hierarchy. A tree map expects node hierarchies to be defined in groups or using containment. Node links are irrelevant. The colour scheme provides additional information about each node and is the reason a Treemap to be known also as a heat map. The built-in TreeMap layout algorithm gives you with a smart way to use your asp.net diagram control also as a treemap control.
Usage Modes
Feature
HTML 5 Canvas Mode
HTML Image Map Mode
Java Applet Mode
Software Requirements for the browser
Support for HTML 5 Canvas*
No special requirements
Java Runtime 1.6 or higher, 700 KB download of the applet's *.jar file
Interactivity
Fully interactive diagram creation
Fully interactive; requires the Microsoft Ajax for ASP.NET libraries.
Fully interactive diagram creation
Client-side Object Model
Full client-side object model
Limited client-side object model
Full client-side object model
Event Handling
Client side events
Click events on client side; click, created and modified events on server side
Client side events
* Generally these are browsers released in the last 3-4 years like Internet Explorer 9 or higher.
"NetDiagram is exactly what we needed for our project. It has a huge number of capabilities and it's very easy to use. Even when we wasn't sure on how to proceed, MindFusion's support was very fast and helped us achieving our goals. Great product, great value! Recommended."
Mr. Rodrigo Vinícius de Lira, System Analyst,
Stefanini